1993 $1 American Silver Eagle Uncirculated Monster Toned CHOICE MS++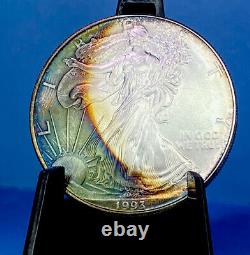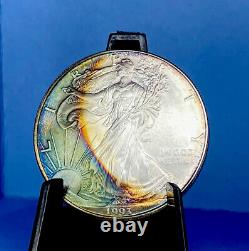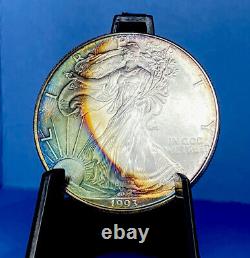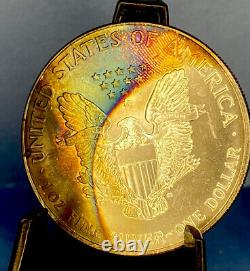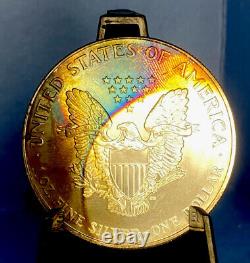 Up for sale is a stunning 1993 UNC Toned Silver American Eagle, a highly sought-after coin among collectors and investors alike. This particular coin showcases a captivating toning on its surface, adding a unique and eye-catching element to its overall appearance. The obverse side of the coin features the iconic Walking Liberty design, originally created by Adolph A. Lady Liberty is depicted confidently striding towards the rising sun, draped in the American flag. The toning on this coin enhances the intricate details of the design, with shades of blue, purple, and gold blending harmoniously across the surface.
The reverse side of the coin displays a majestic heraldic eagle, with its wings spread wide and a shield on its chest. The eagle is clutching an olive branch and arrows, symbolizing peace and strength. The toning on this side complements the design, creating a visually appealing contrast.
The coin is in uncirculated condition, meaning it has never been used in commerce and retains its original mint luster. The toning does not detract from the coin's overall quality; instead, it adds character and uniqueness to the piece. The rim of the coin is intact and free from any major blemishes, indicating its excellent preservation. The inscriptions "United States of America, " 1 oz. Fine Silver, " and "One Dollar are clearly visible on the reverse side. This 1993 UNC Toned Silver American Eagle is a valuable addition to any collection or investment portfolio. Its unique toning and uncirculated condition make it a highly desirable piece for both seasoned collectors and newcomers to the world of numismatics.

---