2021 $1 (P) Silver Eagle Type 1 Struck at Philadelphia NGC MS70 FDOI Mercanti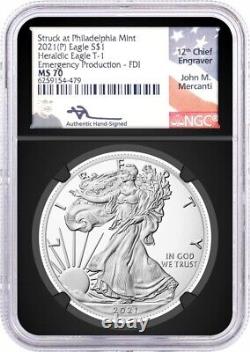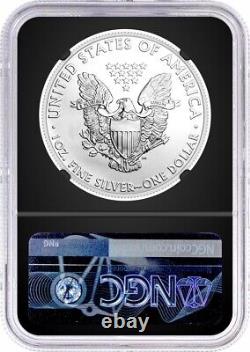 Struck at Philadelphia Emergency Production. NGC MS70 First DAy of Issue.
First Day of Issue Mercanti Signature. First issued in 1986 the American Silver Eagle has become far and away the most collected modern silver coin in the World!
Each Silver Eagle is struck from 1oz of. The obverse design features a modern rendition of Adolph A. Weinman's classic Lady Liberty and the reverse features a heraldic eagle with a shield.
The reverse was designed by legendary coin designer and the 12th Chief Engraver of the U. Although the West Point Mint is the primary production location for bullion Silver Eagles, in recent years, demand has been extremely strong, and the Mint has been unable to meet the demand. In an effort to keep up, both the Philadelphia and the San Francisco Mints have been used to augment American Silver Eagle Bullion production.
You might be wondering how would one know if they had a Silver Eagle struck from the West Point Mint, the Philadelphia Mint or the San Francisco Mint if the bullion coins do not have a mint mark? The Silver Eagles struck at the Philadelphia Mint and San Francisco Mint have specific serial numbers on their sealed US Mint monster box that allows the grading services to recognize one of these boxes upon submission. When Silver Eagles are submitted for grading and can be verified as coming from either Philadelphia or San Francisco, NGC is adding a (P) designation for Philadelphia or an (S) designation for San Francisco on the label as well as adding the "Emergency Production" designation.
In addition the label has been hand signed by the 12th U. Mint Chief Engraver John Mercanti! In the event the wrong item is delivered Coin Advisor will pay for the return.
We believe in developing lasting client relationships based on trust, hard work and follow-through. Theexperienced numismatic advisors in our exclusive Preferred Collector Division focus on education, value and opportunity in the modern, world and ancient coin markets. We offer only premium certified coins graded by NGC and PCGS, the world's two leading authorities. Our team of experts take the time to understand our collectors' objectives and can help you acquire the right pieces for your collection at the very best possible prices anywhere. Add our store to your favorite stores and receive our exclusive emails about new items and special promotions.

---