2021-s 1$ Emergency Issue Silver Eagle-pcgs Ms70-mercanti-type 1-fdoi-pristine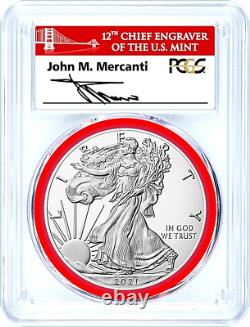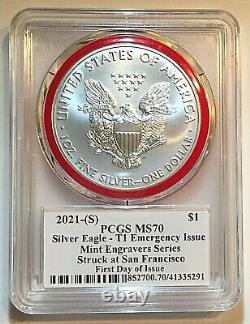 WELCOME TO FIVE STAR TRADING!!! WE ARE EXITED TO OFFER A 2021-S TYPE 1 HERALDIC EAGLE (EMERGENCY ISSUE) MINT STATE SILVER EAGLE / PCGS MS70 / FIRST DAY OF ISSUE / JOHN MERCANTI SIGNATURE / SAN FRANCISCO BRIDGE LABEL / MINT ENGRAVER SERIES GEM COIN. THIS IS AN ULTRA RARE COIN WITH A POPULATION OF ONLY 350!!! THESE COINS HAVE NEVER BEEN CIRCULATED AND ARE IN PRISTINE CONDITION!!! IT WAS ANNOUNCED THAT THE ICONIC JOHN MERCANTI HERALDIC EAGLE ON THE REVERSE OF THE SILVER EAGLE WILL BE CHANGING DESIGNS AFTER 35 YEARS IN 2021.
MINT IS SO FAR BEHIND DUE TO THE PANDEMIC, THAT THEY WILL NOT TRANSITION TO THE NEW DESIGN UNTIL LATE SPRING. THIS GIVES COLLECTORS AN OPPORTUNITY TO STILL GET THE HERALDIC EAGLE DESIGNS IN THE MINT STATE AND PROOF SILVER EAGLES FOR A LIMITED TIME. DUE TO DEMAND AND PRODUCTION LIMITATIONS, MINT STATE COINS WERE NOT ONLY MADE IN WEST POINT. THEY HAVE MADE A LIMITED AMOUNT OF " EMERGENCY ISSUES "AT BOTH THE SAN FRANCISCO AND PHILADELPHIA MINTS AND COLLECTORS ARE SCRAMBLIMG TO GET THEM.
WE HAVE SECURED THESE ULTRA RARE COINS IN THE PREMIUM MINT ENGRAVER SERIES, THE FIRST DAY OF ISSUE, AND IN THE ICONIC MERCANTI BRIDGE SIGNATURE LABEL. PLEASE SAVE OR FOLLOW OUR STORE AND CHECK OUT OUR EVER CHANGING INVENTORY OF RARE AND HIGH QUALITY COINS. WE SEARCH OUT HIGH QUALITY COINS FOR YOU AND OFFER FIVE STAR CUSTOMER SERVICE.
WE USE HIGH QUALITY PACKAGING AND DELIVER RIGHT TO YOUR FRONT DOOR. DURING THE MINTING PROCESS, MINOR IMPERFECTIONS CAN OCCUR SUCH AS SPOTTING, TONING, HAZING, ECT.
THESE MINOR IMPERFECTIONS CAN BE SEEN VISUALLY OR GENERALLY ONLY UNDER MAGNIFICATION. WE ONLY GUARANTEE OUR COINS TO THE STANDARDS OF THE EXPERTS OF THESE COMPANIES AND THE GRADE GIVEN TO THE COIN. WHEN WE HAVE MULTIPLES OF THE SAME COIN, WE USE A STOCK PHOTO SIMILAR TO THE LARGER COIN DEALERS. PLEASE USE THE GALLERY PLUS ZOOM FEATURE, AT AN EXTRA COST TO US, SO YOU CAN GET A GOOD LOOK AT THE COINS.
WE TRY TO MINIMIZE COSTS SO WE CAN OFFER OUR COINS AT THE BEST POSSIBLE PRICES.

---